| Work | Skills and Tools | | | |
| --- | --- | --- | --- | --- |
| Stakeholder management | Research and planning | | | |
| Design and implementation | Creativity, editing and After Effects | | | |
| Site to accompany new YouTube series | Transcribing and illustrating | | | |
| Delivery | Wordpress | | | |
---
Content design and editorial consultancy for a New York based musician.

Based on an educational video series: 'introducing the intellectual process that is going on in the Jazz musician's mind in layman's terms for non-musicians.'
The WordPress website expands the video content adding fully transcribed content with additional images and links, plus graphic design for the WordPress, YouTube and Facebook.
New animated Intro and Outro sequences created to add a higher production value to the video content and tie in with the content of the video series.
Search Engine Optimization including readability editing,  key phrases and metadata.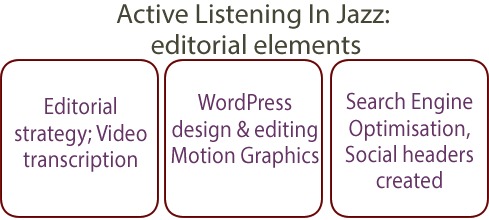 ---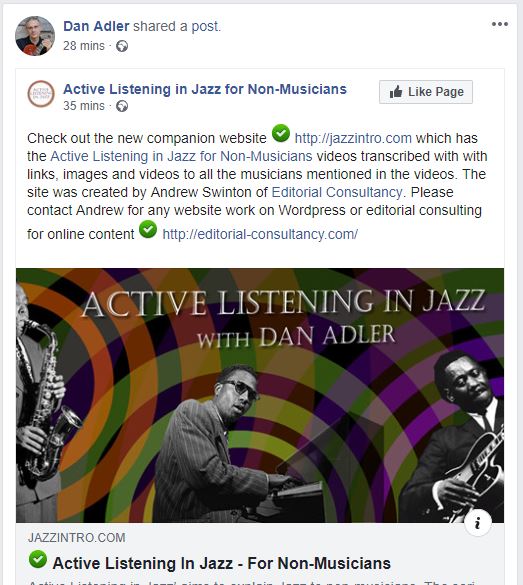 ---
"For years, I have been waiting for someone to create a series of videos about this topic. With all the millions of videos, movies, blogs and books out there about jazz, I have not found anything that explains Jazz to non-musicians in a way that promotes their understanding of the intellectual process that is going on in the Jazz musician's mind.
So before I get started with this I want to tell you a couple of words about myself.  My name is Dan Adler. I play guitar. I try to play Jazz. I've been playing for many years. I've recorded a few albums.
I've recorded an album with Grant Stewart, Phil Stewart, Dmitri Kolesnik, Richard Samuels. That was my first album 'All Things Familiar'.
I recorded an album with Joey DeFrancesco and Byron Landham called 'Back To The Bridge'.
And my recent one is called 'Friends On The Moon' and that's with Arnon Palty who helped write half of the music and Donald Vega the great pianist and Byron Landham the great drummer. And so that's my musical side.
I plan to interview some of my favorite Jazz musicians and give them the opportunity to explain their thought process in layman's terms, so that we may all elevate our appreciation of this unique and creative art form.
If you have been curious about Jazz, I hope this helps you become a more active listener. If you are a Jazz musician, I hope you will share this with your friends and family."
---
See the current episodes in this YouTube playlist. More episodes coming soon.
Check out my Active Listening in Jazz for Non-Musicians Facebook Group. Join today to find out more.
See my Active Listening in Jazz for Non-Musicians Youtube Playlist.
Subscribe to the playlist to learn about new episodes.
Episode 1) Intro & Singlalong  Dan Adler blog series

Episode 2) The Blues

Episode 3) Form
Episode 4) Miles Davis, 'So What?'